Whether you're a staffing and recruiting executive or a staffing industry supplier, here are the industry conferences and events you won't want to miss this year.

January 30 – February 1, San Francisco, CA
Featuring expert speakers in healthcare recruiting, tech staffing, and corporate talent acquisition, SRSC help you power your social recruiting strategy for the year to come. This year's conference will feature speakers in four themes: Tips & Tricks, Strategies for Regulated Industries, Recruiting Analytics, and Candidate Engagement.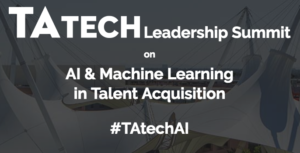 March 5-6, Tempe, AZ
Sponsored by Paradox Olivia, Entelo, and TextRecruit, the 2018 TAtech Leadership Summit will focus on one single, hot topic in talent recruiting: AI. This conference will help you sort fact from fiction when it comes to AI and machine learning and the role it will have in the future of talent acquisition.
Bonus: Kick off the summit with an optional golf tournament!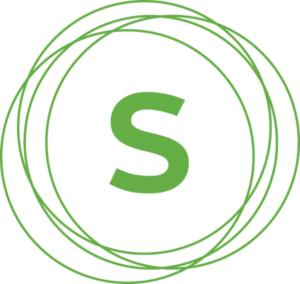 March 19-21, Seattle, WA
As people in the Sourcing, Talent Acquisition and Recruiting industry know, mistakes are bound to happen on the journey known as your career. Join us in the Emerald City of Seattle and find your own brick road to success. Learn from our SourceCon Speakers as they share what trials and tribulations they have gone through, and what they did to overcome them in their careers. They will share insights, lessons learned, and perspectives that will help you in your own career.

February 25 – 28, Austin, TX
The top staffing conference geared specifically for CEOs, owners, and other senior-level executives of staffing firms, Executive Forum invites top minds from throughout the industry to discuss the future of staffing: how to connect to candidates faster, how to face down talent shortages, and how to remain competitive.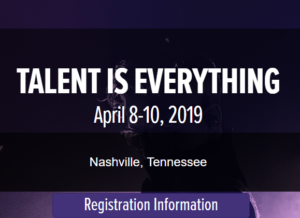 April 8 – 10, Nashville, TN
Getting the right people with the right skills in the right jobs requires constant innovation. Help your organization maintain a competitive advantage by staying on top of the hottest trends in the industry. From diversity in hiring to workplace flexibility to generation-based recruiting and more, you'll leave this conference with the tools you need to level up your talent strategy.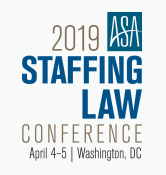 April 4 – 5, Washington, DC
The 2019 ASA Staffing Law Conference will deliver valuable and timely content focused on the top legal and regulatory challenges facing staffing companies right now.
Online registration will open soon.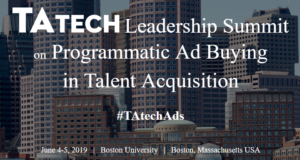 June 4 – 5, Boston, MA
This one-topic conference opens with a networking reception on the evening of June 4th followed by a jam-packed, all-day agenda on June 5th that addresses both Programmatic Ad Buying Technology and Programmatic Ad Buying Applications.
PLUS, outside-the-box insights and ideas from futurists and senior level speakers from leading academic institutions and Fortune 500 enterprises.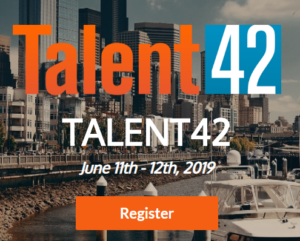 June 11 – 12, Seattle, WA
Talent42 is the national conference focused 100% on helping recruiters hire top technology talent. We bring you keynotes from engineering leaders, tech recruiting leader presentations and panels, hands-on roundtables, and training. Companies like Apple, Facebook, Amazon, Google, Target, Costco, Uber, Disney, Nike, NBC, Etsy, and many search firms send their tech recruiting teams to participate in this practical, how-to conference that's all about sourcing, interviewing, and closing the best tech talent on earth.
June 12 – 14, Boston, MA
Discover how to more effectively engage talent, leadership, and the future of staffing at Engage, the premier global staffing and recruiting conference series. At this multi-day event, recruitment leaders and practitioners alike come together for unparalleled industry insights and tactical Bullhorn product training. With 1,000 attendees at each event, Engage is the perfect place to make new connections and learn from the brightest minds in the field but is still intimate enough that you'll see some of your favorite staffing friends.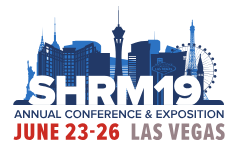 June 23 – 26, Las Vegas, NV
Though geared towards HR professionals, the SHRM conference offers staffing and recruiting professionals an unparalleled opportunity to meet with vendors and suppliers who serve talent professionals, connect with thought leaders in talent acquisition, and make sure your skills and knowledge of the staffing sphere are up-to-date.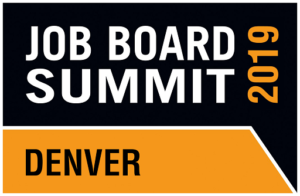 July 25 – 26, Denver, CO
The Job Board Summit North America comes to Denver in June 2019 for two days of exceptional speakers, actionable insights and connections with industry peers.
The annual event brings together the job board community and arrives in The Mile High City for the first time. If you're in the job board industry then you should be there! Thought provoking sessions cover current key topics that really matter to you.
You'll get to connect with a range of job board owners, managers, innovators and industry suppliers in dedicated one to one meetings through our event networking platform. It's not to be missed!

July 23 – 25, Minneapolis, MN
Contingent Staffing is a peer-led, interactive conference designed to help staffing professionals build a winning people strategy using procurement values. Created part of our ProcureCon Series of events, Contingent Staffing will make sure you have the tools for success in Total Talent Management.

September 9 – 12, San Diego, CA
The CWS Summit North America and Collaboration in the Gig Economy are two conferences the help move your workforce solutions program into the future.
CWS Summit North America
September 9-10, 2019
The annual CWS Summit is the largest peer-to-peer networking event for contingent workforce professionals. This event features case studies and real-world solutions for the evolving challenges in managing today's workforce solutions program. Whether your program is new and in search of tools to get started or mature and needing to evolve to the next level, the Summit offers content for all.
Collaboration in the Gig Economy
September 11-12, 2019
At the convergence of talent and technology is Collaboration in the Gig Economy. Work is no longer defined as direct hire or contingent and all iterations of how, when and where people choose to work require new ways of managing talent programs. Problem-solve alongside all players in the talent supply chain and gain impactful strategies on how to maximize the value in your own program.

September 16 – 18, Boulder, CO
Staffing Hub live is an event for executives who want to grow their business faster.
Attendees will learn best practices for growing their team. Attend workshops on selecting their tech stack. And hear from executives who have scaled through acquisition.
At most conferences, you only get a few minutes to connect with other attendees. This event centers around one stage, one agenda, and one goal – growth.
Join like-minded executives and build meaningful connections that will help you grow faster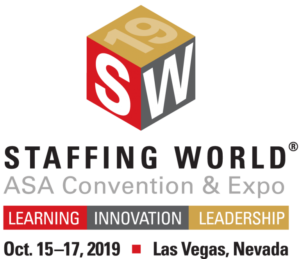 October 15 – 17, Las Vegas, NV
The ASA annual convention and expo—the most important learning and networking event in the industry—takes place at an exciting new space at the MGM Grand in 2019!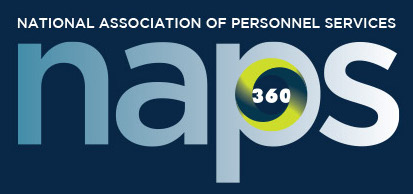 September 22- 24, San Antonio, TX
NAPS 2019 Conference is the premier education opportunity representing the search, recruiting & staffing industry. More than 400 attendees are expected to attend this year's annual event, which will be held September 22-24, at the Hyatt Regency Hill Country Resort and Spa.

November 6 – 8, Las Vegas, NV
Join hundreds of healthcare staffing and workforce solutions leaders for an insightful, compelling and thought-provoking conference that continues to take the pulse of this dynamic segment of staffing.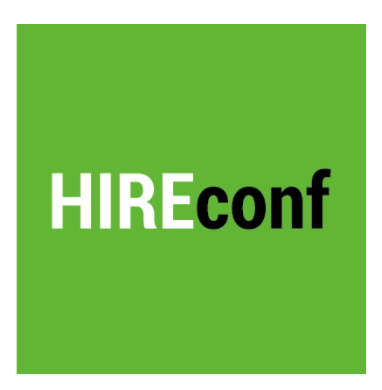 October 22 – 23, New York, NY
In the last 5 years, tech for TA has changed dramatically with the introduction of new Machine Learning and Artificial Intelligence. It's not so much about keeping up any more. It's about staying ahead. HIREconf will cut through the buzzwords to help Talent Acquisition leaders, front-line recruiters, and sourcers understand how to succeed in the age of automation.
Looking for more staffing and recruiting education? Check out this list of great on-demand webinars.
Please follow and like us: