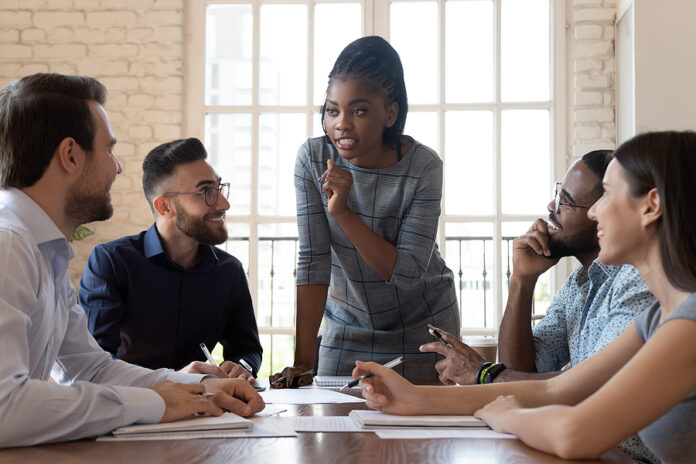 Viewpoints vary among different racial and ethnic groups when evaluating workplace diversity and inclusion (D&I) performance, a new study from Glassdoor found. 
Glassdoor recently added an option for employee reviewers to rate their employers' D&I performance. This rating — paired with anonymous employee data on race and ethnicity, gender identity, sexual orientation, and more — provided Glassdoor with insights into how workers in different demographic groups feel about their employers' D&I efforts.
It's important to note that Glassdoor's report focused on the race and ethnicity of employee reviewers, rather than other aspects of workplace diversity like age, gender, and sexual orientation. 
Black workers less likely to approve of D&I efforts
The average individual employee D&I rating from Glassdoor's sample was 3.73 out of 5 stars. That's higher than the average rating for any other workplace culture factors in the sample, and it even surpasses the overall average Glassdoor company rating of 3.63. 
However, breaking down the data by race and ethnicity tells a different story. Although the average D&I rating from white employees (3.74) is nearly the same as that of the overall sample, the average rating from Black/African-American employees was notably lower at 3.49. 
Many other racial and ethnic groups, on the other hand, averaged a higher D&I rating:
Asian: 3.98

Hispanic/Latinx: 3.80

Multiracial: 3.75
The results indicate that Black workers, in particular, are less likely to feel positive about their companies' D&I performance.
From 2019 to early 2021, the gap between the D&I sentiment of Black employees and that of all other employees grew from 0.2 stars to 0.6 stars. (Glassdoor allows employees to rate previous employers up to five years in the past.) This trend is surprising and troubling, given that more companies were investing in D&I programs during this timeframe.
D&I perception varies by industry
Looking at the data by industry, a similar pattern emerged — across job categories, Black workers were, on average, less satisfied with company D&I efforts than their white colleagues, while Asian and Hispanic workers were generally more so. 
Industries with the highest levels of overall satisfaction included education (average rating of 4.01), government (3.98), and travel and tourism (3.92). Media and business services had the smallest gaps between the D&I perception of Black workers and all other racial/ethnic groups. Media was also the only industry in which Black employees rated workplace D&I performance higher than other employees.
The average rating doesn't show the distribution of ratings, however. In retail, for example, Asian, Hispanic, and Black workers were more likely to give their employers a rating of 1 out of 5 stars than white workers.
Next steps for employers
Glassdoor's research reveals the potential dangers of broadly evaluating D&I initiatives. White voices typically dominate D&I feedback — they account for 60% of the US labor force and 56% of Glassdoor D&I ratings. Thus, basing results on the average employee's views when evaluating programs often leaves out important feedback from underrepresented employees.
To avoid these blind spots and ensure their D&I initiatives thrive, employers must increase their efforts to understand the views and experiences of the marginalized groups within their organization.