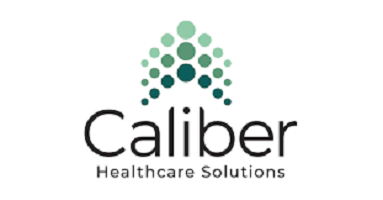 Caliber champions provider-centric perspective combined with decades of industry expertise
DALLAS–(BUSINESS WIRE)–Today, Caliber Healthcare Solutions launched a new brand to better reflect the company's position as the industry's leading provider-centric locum tenens staffing option for healthcare facilities. Caliber, most recently known as Health Carousel Locum Tenens, represents a new paradigm for recruitment of high-quality physicians and advanced practice providers who improve patient outcomes.
The United States continues to face an unprecedented physician shortage. The Association for American Medical Colleges estimates a shortage of between 37,800 and 124,000 physicians by 2034. Additionally, more than two out of every five physicians are nearing retirement age, and there are not enough physicians completing residency training programs to meet the demand. Caliber's solutions provide physicians and advanced practice providers with professionally satisfying and financially compelling work experiences and give clients access to scarce clinical talent when and where they need it, helping them to meet the needs of patients and communities more effectively.
"We're rethinking the supply-demand dynamic for healthcare and pushing for a more efficient and effective resourcing model," said Caliber CEO Clay Walker. "That drive comes from our roster of experienced and knowledgeable experts who leverage technology, industry insights, and proven best practices to ensure providers and clients feel valued. This new identity is an outward recognition of the mission we've been living since day one."
The name Caliber reflects how the organization serves as a trusted advisor to a network of high-caliber providers. Building career-long relationships allows the company to deliver an elevated staffing partnership across the complex and challenging healthcare environment. Caliber is setting the pace for the rest of the healthcare staffing industry by ensuring providers have greater autonomy, flexibility, mobility, and career options.
"Both providers and healthcare organizations need a partner in their corner they can trust to do what's necessary to create a best-in-class experience," Walker added. "Through consistent and purposeful innovation, we're solving today's staffing challenges and offering providers the compensation and career support they deserve."
Caliber's unique service model brings substantial benefits not only to prominent healthcare establishments but also to underserved rural facilities, effectively addressing the challenge of retaining specialized clinicians. Through well-crafted solutions, Caliber bridges short- and long-term healthcare gaps while remaining attentive to each organization's distinctive needs. Its steadfast dedication to exceptional national patient care underscores its role as a driving force in a purpose-driven ecosystem, primed to provide crucial support with a provider-centric focus. Caliber offers an array of options for providers, ranging from flexible part-time to full-time commitments, including local and travel assignments. This effort is bolstered by specialized recruiters who collaborate closely with providers to align their professional goals and income targets with their unique workstyles.
Caliber expects continued growth and expansion in the coming years both organically and through acquisitions. Walker says he plans to expand the company's workforce and is looking for people with passion and expertise to guide the organization into this new era.
About Caliber Healthcare Solutions
Caliber Healthcare Solutions empowers high-quality physicians and advanced practice providers with greater career flexibility, autonomy, and mobility. As the leading provider-centric staffing firm, we serve as a trusted advisor both to providers and organizations competing for scarce clinical talent. Built on a foundation of specialization and exceptional support, Caliber's workforce solutions ensure the quality and continuity of patient care in communities across the U.S. We deliver exceptional outcomes by putting the provider at the center of our purpose. Learn more at www.caliberhealth.com.