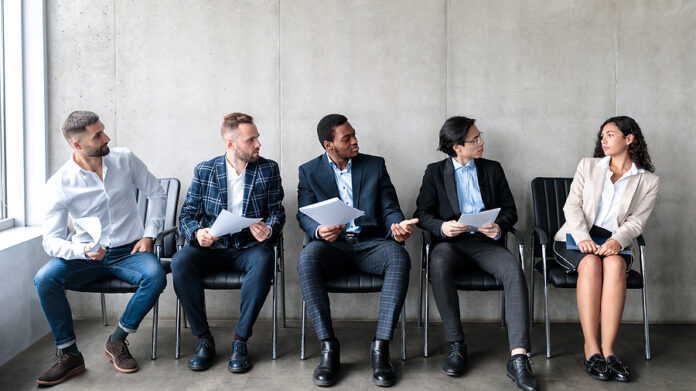 While women and men are both well represented in the staffing industry workforce overall, women make up only 21% of the C-suite, a new staffing industry report finds. 
The Women Business Collaborative (WBC) surveyed representatives from nearly 500 staffing companies, most of which had fewer than 500 employees, to discover what gains have been made in gender diversity. The WBC Staffing Council has made these benchmark findings available via their interactive Staffing Industry Results Dashboard.
Although staffing industry workforce representation is fairly balanced in general, with women occupying approximately 44.5% of work roles across sectors, there are far fewer women in leadership positions. In fact, the only area where women and men have near-equal representation is entry-level positions — 48% of these are occupied by women. As you move up the ladder through manager, senior manager/director, vice president, senior vice president, and C-suite, the proportion of women steadily declines.
Women of color are even more poorly represented, making up just 18% of entry-level employees. Again, the proportion decreases as you move higher up the ladder, shrinking to just 4% in the C-suite.
Top 5 occupations held by men:
Management

Sales and related 

Construction and extraction

Transportation and material moving

Production
Top 5 occupations held by women:
Office and administrative support

Sales and related

Education, training, and library

Management

Healthcare practitioners and technical
Pay equity is also lagging. The study looked at average pay for men and women between 2011 and 2019 and found that the situation hasn't changed much. While the median hourly wages for both genders has increased, the gap between them has increased slightly.

Attracting and keeping women 
It's clearly in a company's best interest to both hire and promote women into leadership roles: the WBC study found women executives drive diversity, mentoring, and other inclusion initiatives.
The top three types of policies that staffing firms have adopted to attract and retain women are:
Diversity and inclusion initiatives

Formal mentoring / coaching

Targeted hiring
Data suggests the companies that succeed in these initiatives will reap the benefits of their efforts. The 2020 MSCI World Index revealed that companies with strong women leadership generated a Return on Equity of 10.1% per year versus 7.4% for those without strong women leadership.
"The data in this survey represents a significant opportunity to drive opportunity for promotion and pay equity in leadership roles," said Edie Fraser, CEO of the WBC, said in a press release. "The staffing industry supports the employment of nearly 10 million job workers on an annual basis. By encouraging a more diverse and equitable workforce composition across those businesses supporting this industry, we will by default better represent the workers we employ."