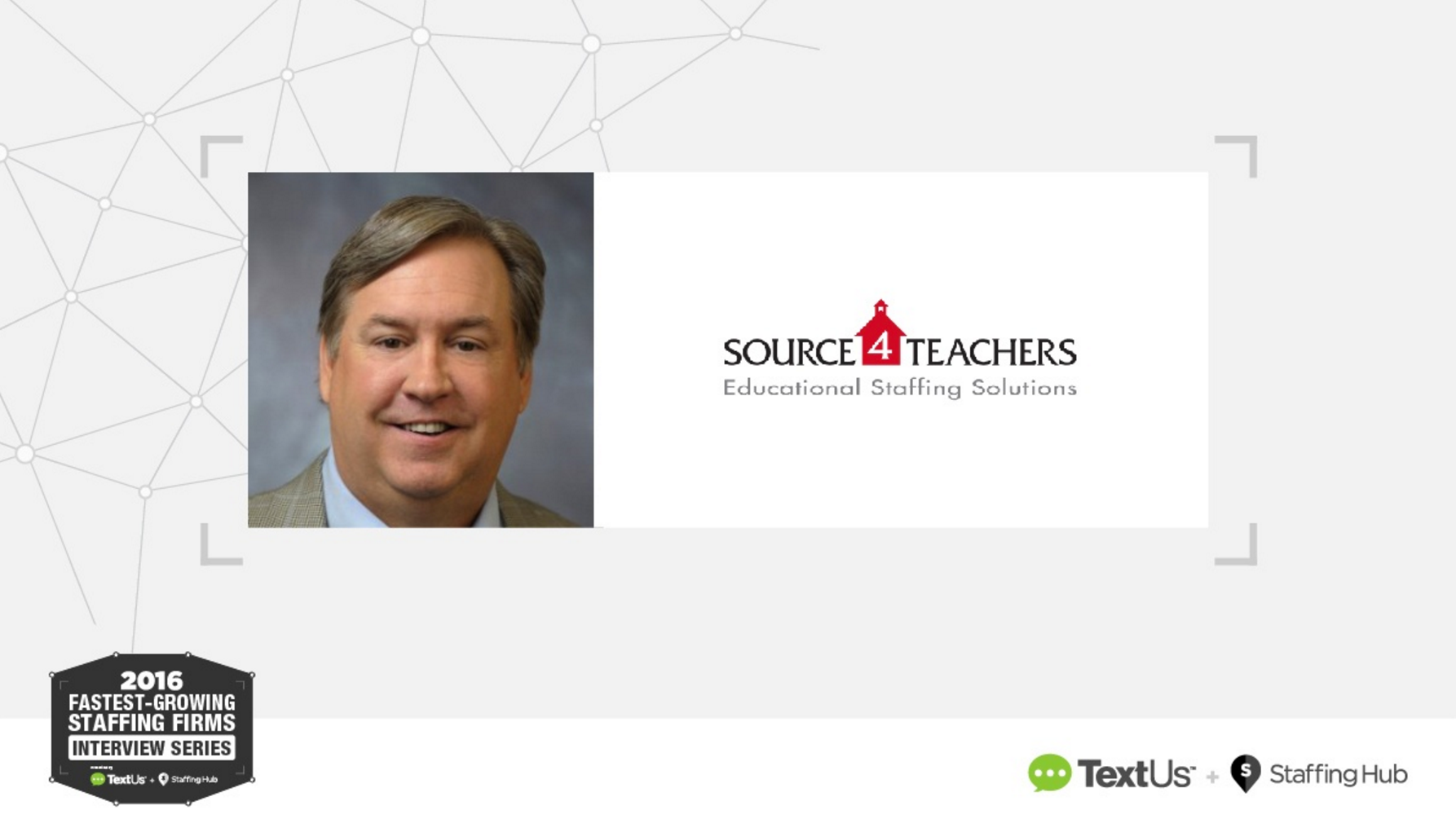 Educational management solution Source4Teachers was recently named one of 2016's top 10 fastest growing staffing firms by Staffing Industry Analysts (SIA). CEO Kendley Davenport credits a few key factors for Source4Teachers' success: a team inspired by deep industry knowledge, a commitment to creating effective technological solutions, and an unparalleled devotion to excellence.
Why did you join Source4Teachers?
I came to Source4Teachers with a personal dream: to build a complete educational managed services company. We wanted to be more than just a last-minute staffing company, filling gaps in the K-12 market ad hoc. Our vision was to serve as an extension of the HR department for the K-12 market. We've done just that.
Our comprehensive approach is appealing to school districts. We handle substitute management and staff anticipated full-time vacancies (such as maternity leave, illness, etc.). We also handle overall recruiting for school districts for full-time staff. Instead of working with six different service providers to get these services, we provide a one-stop shop. This makes coordination more efficient and delivery of services that much easier.
We're also driven to be the best in the industry. We aim to deliver a higher value to our customers. We're all about high-quality touches and high-quality reporting, and that kind of dedicated customer service and analytics really sets us apart.
What were the main factors that drove your success over the last year?
It's been a year of investing in our infrastructure — in our people and in our technology. We have worked to bring in only the best people, those with dozens of years of experience in education. And we have worked hard to sharpen our daily operations, eliminate procedural blind spots, and invest in the right technology. There are six main tools that drive our ability to anticipate our customers' needs and to respond rapidly:
Our online substitute management software allows us to communicate absences and fills in a very timely manner.

Our business intelligence software leverages our entire database to define patterns. This data helps us make rational business decisions around recruiting and placement.

Our inbound marketing platform helps us to actively communicate with prospects and clients and to ensure that everyone is on the same page. It also has significant analytic capabilities that help us gain further insight into how to best contact our prospects and leads. We recruit faster and we recruit higher quality candidates because of the sophisticated, segmented data the platforms provides.

Our text messaging software and other communication mechanisms allow us to talk to a lot of people quickly. We have 31,000 substitutes, and in order to keep them engaged, we rely on automated communication. Utilizing a multichannel approach — text, email, and phone calls — allows us to have an ongoing dialogue with all our employees.

Our CRM  helps us keep up with and track communications with customers, be very timely in the delivery of our services, and nip any problems or concerns in the bud. Because of our CRM, our customers always know where they stand, and we always have a very clear picture of their needs.

Our business utility system allows us to tailor invoicing and payroll to the unique, complex financial needs of our school districts.
All of these systems are integrated and easy-to-use, and they make our team more efficient. We're able to anticipate substitute needs, help make school administration's life easier, and make sure, no matter what, the kids in those schools are getting the instruction they need.
We're also able to automatically reach out via text and email to substitutes at crucial moments in their placements and careers. We send an automated message to find out how their first day was, what problem spots they ran into, and how we can make their second day better. We touch base with regular subs who haven't worked in more than five days to see if they need positions or guidance, or if they are off the market.
What are your biggest day-to-day challenges?
Our main challenges are industry challenges. There's a big teaching shortage right now and that trickles down to a substitute shortage. But, we address both problems head-on. By giving our teachers the opportunity to try out different teaching settings in a low-risk way, we both provide the quality subs that are needed today and help shape future teachers. For example, new teachers can try different grade levels, different subjects, and different school settings to find out what they're most passionate about.
Another challenge we face is that teaching is a unique profession. A sub may find that teaching is harder than they expected. So we work to make sure our teachers are nurtured, competent, and well-trained so they are ready to face any challenges that come along.
How would you describe your leadership style?
I believe that if you treat your employees well, if you take care of them, they will take care of your clients. From there, you will see growth and profit. All of that profit is shared with all the stakeholders. We see ourselves as one big team, working together to get things done.
I also believe it's important for us all to have fun while striving to do our best. We don't take ourselves too seriously and yet we hold ourselves accountable. That combination makes for a great work environment. It means that our team isn't afraid to take risks — we understand that failure is acceptable and part of the learning process.
What do you think sets your company apart?
At the end of the day, we're a people business. When you're in staffing, it's about the human touch. Our customized, unique, and thorough understanding of the needs and pains of the K-12 market enable us to solve their problems cost-effectively. So our formula for success is a deep understanding of our customers combined with the strong infrastructure that allows us to deliver our services quickly and efficiently.
We're continually working to grow and improve, too. That's why we'll be talking again this time next year, when we're at the top of the fastest-growing firm list!
About Source4Teachers
Source4Teachers was established in 2000 with a vision to improve the continuity and quality of the classroom experience for students by providing highly skilled substitute personnel to school districts. The company is a leading provider of substitute staffing services, filling more than 10,000 daily and long-term vacancies each day for over 280 clients in a variety of states throughout the U.S.
Source4Teachers assumes the responsibilities of recruiting, credentialing, training, managing, and evaluating school districts' substitute teachers, substitute paraprofessionals, and substitute support staff. We improve operational efficiencies, enhance student productivity, and deliver ample cost savings.
Looking for more? Check out the entire fastest-growing staffing firm series.