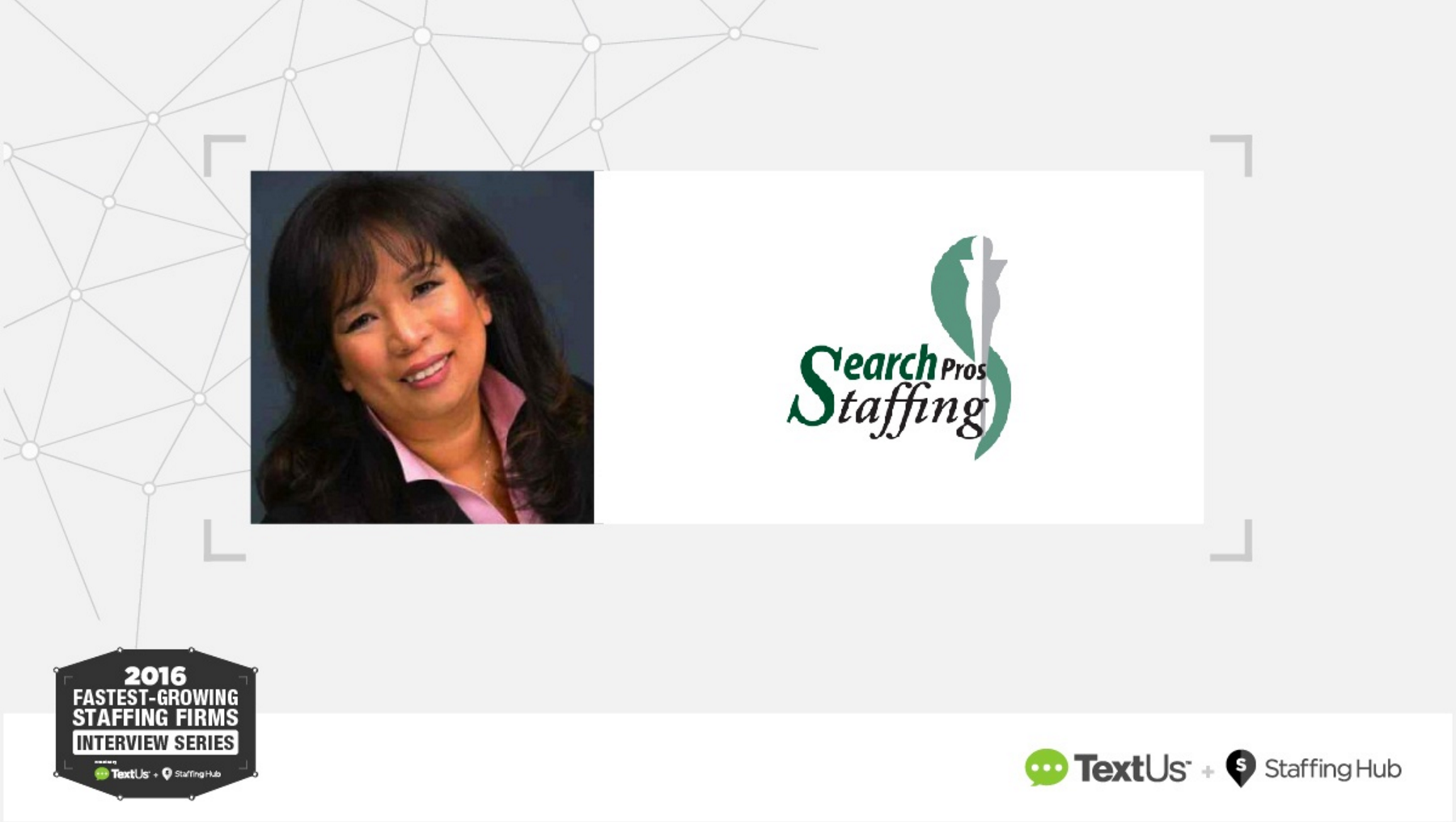 Executive staffing agency SearchPros Staffing was recently named one of 2016's top 10 fastest growing staffing firms by Staffing Industry Analysts (SIA). What's more, CEO and co-founder Myla Ramos was recently honored with a Wise Woman Award for her outstanding leadership skills. Here, Ramos discusses her firm's first act of generosity, the role of process and teamwork in growth, and the importance of hands-on leadership.
Why did you start SearchPros Staffing?
My two business partners and I were all working at a staffing agency that was going through a lot of mergers and acquisitions. Over the years, we'd had five or six different company names on the door.
One payday, the Friday before Christmas, we got word from corporate that no one's paychecks were coming. The long line of temps in the lobby, waiting for that crucial check right before the holidays, wouldn't be paid. People started crying. They were devastated.
So, the three of us went down the line, one by one, and talked to them. How much money do you have in your checking account? How much do you need? We lent them everything we had. We cleaned out our personal savings accounts.
And that evening, instead of going home to our spouses to tell them we had given away all our money right before Christmas, the three of us went out to drinks and started talking. We realized that we did all the work at the agency, and we took care of the employees. The client and candidate connections were with us. Instead of working in an office where the name on the door is constantly changing, we could start our own firm. And that's just what we did.
That was 11 years ago. Now we're in 9 countries and have over 2,000 contract workers.
What were the main factors that have driven your growth?
We're successful because we always give our clients exactly what they want. We've grown from a mom-and-pop admin staffing company to a full-blown global MSP — because that's what our clients needed. No was never an option, and failure was never an option.
In 11 years, we've never lost a customer and I think that speaks volumes to the quality of our service and the strength of our dedication.
What are your biggest day-to-day challenges and how do you tackle them?
Employment laws and healthcare regulations change so quickly. The compliance component is really difficult to keep up with. So, we work to remain knowledgeable, to seek out information. No one in staffing is an island — we hire experts to help us understand, to navigate the waters and make sure clients and candidates are protected.
Technology is also a blessing and a curse. I've been in the industry for 25 years. In the beginning, you would take a customer out to lunch, you would talk face-to-face to understand exactly what they wanted. Then, you would have a week to find the perfect candidate.
Now, with VMSes and the fast-paced world of talent acquisition, our metrics are measured in minutes. The difference between landing a client and missing out entirely can be a single minute. So there's a pressure to keep at it constantly while maintaining high quality.
So, to remain fast-paced and on the mark, you need to have internal checks and balances. These come in the form of detailed, shared processes that everyone follows, from the greenest recruiter to the founders. It doesn't matter what tools you use, as long as you have buy-in from the entire team. We make sure everyone is on board and that we all have a shared picture of what successful follow through looks like.
How would you describe your leadership style?
What makes us different from a lot of other staffing agencies is that management does everything that the recruiters do, and then some. I staff and recruit, too, so when I ask my recruiters to source for a client, it's not out of some general idea. It's because I can do it, too. It's easier to lead because each of us has done every role in the agency. We understand what it takes to get the job done.
What do you think sets your company apart?
I think it's perseverance and hard work ethic. The three of us have worked side-by-side for over a decade, and we work right next to all our staff. We're very hands-on. I know and have met all of our major customers. We don't have a marketing group or any outreach department. All of our growth is organic. This sets us apart from a larger company, where the recruiters may not even know the president or CEO.
About SearchPros Staffing
SearchPros is a full service provider of human capital and workforce solutions management with a commitment to client service that is unsurpassed in the industry. The SearchPros team is a proud recipient of the highest rating from Dun and Bradstreet, scoring in the top 2% nationwide for past performance against all others in the same industry for Reliability, Cost, Order Accuracy, Delivery/Timeliness, Quality, Business Relations, Personnel, Customer Support and Responsiveness within our NAICS codes.

SearchPros innovative approach is to help their clients builds unique and dedicated teams through open communications and a fanatical approach to documentation. For our clients looking to shift complete administration and management of staff augmentation services while retaining control, SearchPros provides a comprehensive range of human capital management services, including Managed Service Programs (MSP), Vendor on Premise (VOP), staff augmentation for all labor categories, and more.
Looking for more? Check out the entire fastest-growing staffing firm series.