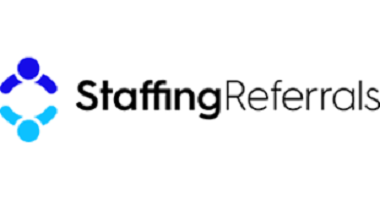 Top automated referral management platform for the staffing industry recognized as a Easiest To Do Business With, Easiest Setup, and High Performer for Recruitment Marketing by G2.com
DENVER (PRWEB) APRIL 14, 2023 — Staffing Referrals, the #1 automated referral management (ARM) platform for the staffing industry, is proud to announce that it has generated over 1.5 million brand ambassadors for its customers. Brand ambassadors are people who have joined an agency's candidate referral program. That means that agencies have more than 1.5 million people referring friends and family to their organizations, giving them access to a unique network of talent they can't find on job boards.
"As the labor shortage continues and job boards get more expensive, staffing agencies are looking for more effective ways to source candidates. Referrals provide higher-quality candidates than other sources, resulting in faster hires, higher retention, and a lower cost per hire," said David Folwell, Staffing Referrals president and CEO. "By engaging brand ambassadors with Staffing Referrals, agencies can turn their talent pool into a competitive advantage."
The staffing software has also been recognized as a High Performer in the Recruitment Marketing and Employee Referral categories in G2's Spring 2023 Grid® Reports. To be a High Performer, products must have high customer satisfaction scores in their respective categories.
Staffing Referrals received a total of 11 awards:
Employee Referral category
Best Estimated ROI
Best Support – Mid-Market
Easiest To Do Business With
Easiest To Do Business With – Mid-Market
High Performer
High Performer – Mid-Market
Recruitment Marketing category
Best Support
Easiest Setup
Easiest To Do Business With
High Performer
Additional Reward
Users Love Us
The G2 reports are based on user ratings. One user called Staffing Referrals "the simplest tool for marketing in our staffing agency's arsenal." Another said: "Our referral program boomed after partnering with Staffing Referrals!"
"When we launched Staffing Referrals in 2017, very few agencies were thinking strategically about referrals. Today, the most successful agencies recognize referrals as a competitive advantage and are looking for ways to automate their referral process," Folwell said. "Leading agencies choose us because we elevate the candidate experience, reduce dependency on job boards, and eliminate administrative workload."
Visit http://www.staffingreferrals.com for more information or to get a demo.
About Staffing Referrals
As the #1 automated referral management (ARM) platform, Staffing Referrals is changing the way staffing agencies source, engage, and place qualified candidates by enabling them to turn their talent pool into a competitive advantage. Founded in 2017, the staffing software elevates the candidate experience, reduces agency dependency on job boards, and eliminates administrative workload. Staffing Referrals is integrated with leading applicant tracking systems (ATSs).