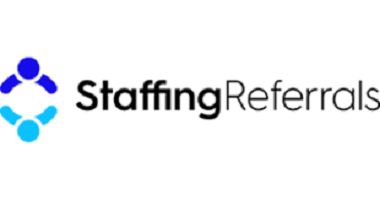 Leading automated referral management (ARM) provider expands offerings with consulting packages to improve agencies' referability and facilitate change management
DENVER, CO / ACCESSWIRE / July 5, 2023 / Staffing Referrals, the #1 automated referral management (ARM) platform for the staffing industry, has launched a new referral culture consulting service to help staffing agency customers improve their referability and facilitate change management. A strong referral culture provides the foundation agencies need to scale their referral program quickly and effectively using ARM tools.
To be competitive now and into the future, staffing agencies need to embrace the digital transformation and adopt staffing software that will help them improve their candidate experience and recruiter productivity by automating their processes. But more than two-thirds (68%) of digital transformation efforts fail to achieve their desired ROI. The top reason for these failures has nothing to do with technology at all – it's because the people within the organizations are resistant to change.
Staffing Referrals' new referral culture consulting service helps customers overcome resistance to change, adapt their internal processes, and develop better relationships with talent. This ensures agencies get the maximum ROI from their technology investment.
"Working daily with staffing agencies on their referral programs has given us deep insight into what works and what doesn't, and the common thread across companies that are booming is their culture," said Rachelle Arnold, VP of Customer Experience at Staffing Referrals. "If you have a great culture, your recruiters are motivated, and they provide a high level of value for the talent you work with. Their investment in turn makes your agency more referral-able…it just makes sense!"
"We've surveyed thousands of workers, and we've consistently found that the main reason people refer their friends, family, and colleagues to staffing agencies is because they've had a positive experience," added Krista Garver, Head of Customer Education at Staffing Referrals. "Our referral culture consulting services help agencies create the kind of culture that delivers a top-notch candidate experience with the result of driving more referrals to the organization."
"We always knew that referrals were our top source of candidates. Staffing Referrals gave us the tools to track our referral program results. This data helped us set a baseline for our program," said Sara Luchsinger, VP of Organizational Development at Midwest staffing firm SEEK Careers/Staffing. "The Staffing Referrals team trained us on best practices, surveyed our recruiters and our talent, and gave us a personalized action plan to follow. This plan has allowed us to improve our program results by over 600%."
"Transparency for our employees is key to our success with Staffing Referrals," Luchsinger continued. "The employees know exactly which stage of the hiring process each referral is in. Staffing Referrals also helped us craft targeted messages that keep our company top of mind and ambassadors engaged with the program. This has improved the number of referrals we receive per ambassador from one to four candidates."
Staffing Referrals' referral culture consulting services are specifically designed for agencies that have difficulty getting stakeholders to buy into new tools and processes or that have tried referral programs in the past without success. Visit http://www.staffingreferrals.com for more information.
About Staffing Referrals
As the #1 automated referral management (ARM) platform, Staffing Referrals is changing the way staffing agencies source, engage, and place qualified candidates by enabling them to turn their talent pool into a competitive advantage. Founded in 2017, the staffing software elevates the candidate experience, reduces agency dependency on job boards, and eliminates administrative workload. Staffing Referrals is integrated with leading applicant tracking systems (ATSs).
To learn more about Staffing Referrals and to request a demo of the software, visit https://staffingreferrals.com/.