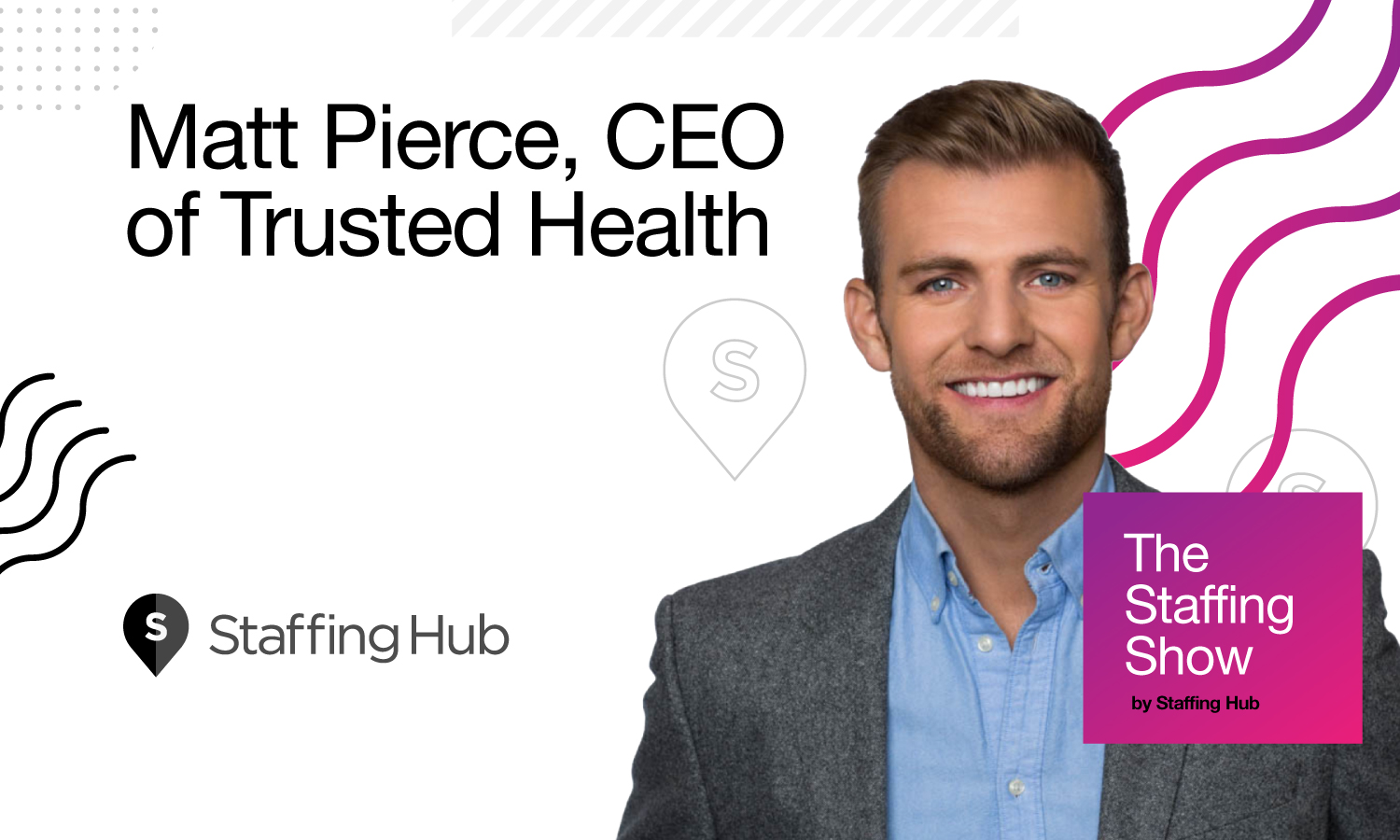 In this episode, I'm at The Travelers Conference, the only conference held just for travel nurses and healthcare staffing agencies. I sat down with Matt Pierce, the co-founder and CEO of Trusted Health, in a noisy hotel lobby (forgive the racket of an endless ice machine in the background at the beginning). We talked about authentic leadership, building nurse advocacy into the very DNA of healthcare staffing, and how predictive analytics can help hospitals meet the growing demands of an aging population.
Staffing Hub: We're here in Vegas for the Traveler's Conference, and I'm talking to Matt Pierce, the co-founder and CEO of Trusted Health. How's your conference been so far?
Matt Pierce: Thanks, Caitlin, for having me. The conference has been absolutely awesome. First time for me. First time for Trusted Health, and it's exciting to just be in one place where there's a concentration of our customers and travelers and get real-time feedback. It's been great.
Staffing Hub: Awesome. I noticed that you called the recruiting industry, "inefficient and antiquated," which I can totally see, and I wanted you to talk a little bit about that. What did you mean by that, and where do you see these inefficiencies in the industry?
Pierce: For a little bit of context, I grew up in the world of staffing. I started at a traditional staffing agency, a part of the Allegiance group, TEKsystems, and have played every single role there is to play within a staffing organization. I've seen the entire supply chain, and lived it and done it.
When I talk about, and when Trusted Health talks about, inefficient and antiquated systems, there are a lot of pieces on a day-to-day basis that a recruiter, that an admin, that a salesperson, that a director of business operations, that a payroll person does — those are all roles within a staffing agency. And those typically are not streamlined with digital solutions. Right?
And so, what we're ultimately driving is efficiency throughout the supply chain with a technology platform that allows us to provide a better customer experience.
Ultimately, our focus is on the nurse and that provides value to the other side of the equation as well.
Staffing Hub: When you mentioned technological solutions, do you have any disrupters that you would like to share or any tools that have been useful for boosting Trusted Health's growth?
Pierce: Our technology is custom built by us. So we're not leveraging somebody else's platform, and we didn't outsource it.
We fundamentally think that it's extremely critical to build the right solution for our customers, for our nurses. If that was already out there, we probably wouldn't be so passionate and excited about what we're building.
There's no one tool that I can point at. A lot of what we've built to date is what's creating the excitement and efficiency. That's really our technology.
Our matching technology, our credentialing locker, etc., exciting stuff that we've built ourselves.
Staffing Hub: You also mentioned compassion in some of your thinking on staffing. You talk about compassion and I wonder how you combine these technological solutions with a compassionate touch.
Pierce:
I think the critical piece about the world of staffing is that if you try and come in with a heavy-handed, all-tech or all-digital approach, you lose the human touch in a very human business.
This is like the ultimate people business right? So, what the digital solution has to do is remove a lot of the administrative pieces to the puzzle that people within the staffing supply chain don't like to do.
But, there's always going to be a human-to-human touch point and interaction. With Trusted Health, we've removed the recruiter out of the equation, and we've inserted our technology platform.
We've also added a nurse advocate. These are nurses who have left the bedside and are passionate about helping other nurses in their career journey. We think it's our responsibility for the technology to connect the people at the highest value touchpoint.
If you're a traveler, and you're looking for an opportunity, you don't want to talk to somebody when you're just trying to search for information. But, when you want to engage with somebody, you want to be able to engage with somebody who understands what you're going through.
And that's what we're trying to provide and making it very easy to get in touch with that person, and make sure that they understand all of what you're going through.
Staffing Hub: I see that Trusted Health is pretty new. Did you guys start in 2017?
Pierce: Yep. We incorporated in May 2017. Exactly.
Staffing Hub: What inspired you to start a staffing firm now?
Pierce: As I mentioned before, I've spent my entire career in staffing, so it's something I know really well. And really that's, the staffing side of the equation, that's definitely the case. The healthcare piece was in the journey, that was new.
And I made the transition from, I would say a traditional staffing agency to Hired.com, which was a first mover and really a digital platform connecting technology workers.
And so I saw the opportunity — the efficiency that's created with a digital solution.
Early on in my time at Hired, my brother broke his leg, suffered from medical error, and he got a staph infection. It really just opened my eyes up to the world of healthcare. Sent me down a little bit of a personal exploration path and realized that medical errors have a direct correlation with understaffed healthcare facilities and burnout amongst clinicians.
I started looking at these macro factors of the aging population, and the nursing shortage, and our education system, which doesn't have the infrastructure to create as many nurses as we need at this point.
We need to be able to create a solution that can distribute our workforce more effectively and start really looking at what the future of our healthcare workforce looks like.
So I got really excited about it and started talking to one of my really close friends and coworkers at Hired.com about it and that's now my co-founder, Lenny.
He comes from an entire family of nurses, so they were constantly like, "Hey. We need a solution here."
And so we just got super excited about it, and Lenny actually made the transition out of Hired and got us kicked off and in May of last year, we incorporated.
Staffing Hub: Congratulations.
Pierce: Yeah, thank you. It's been fun.
Staffing Hub: You mentioned having nurse advisors on your staff and it sounds like nurses are part of the DNA of Trusted Health, from its inception. How do you, as part of the leadership team, how do you incorporate the nurse advisors into the way you direct your company?
Pierce: They're actually called nurse advocates. They're full-time employees of Trusted Health, so they're literally in everything that we do. It's really important and extremely valuable to have that direct feedback loop, so they're constantly engaging with the product, engaging with other nurses, telling us what works, what doesn't work. This is a synonym for this particular specialty, which helps with all these nuances when you're building tech to make it super user-friendly.
So, I would probably have a harder time answering how are [nurse advocates] not incorporated into the work we do.
I think one of the critical pieces to this is connecting a software engineer and a nurse and having them in the same workplace, back-to-back, constantly collaborating is … It seems pretty rare at this point and it's exciting to be in a work environment on a day-to-day basis to where you can see the brilliance of both sides, of the nursing side and of the software engineering side. It's fun. I'm lucky.
Staffing Hub: How would you describe, maybe outside of this collaboration, but how would you describe your leadership style?
Pierce: That's a good question.
Ultimately, I think what I've been working on is just trying to be as authentic as possible.
There are times when it's important to step up and there are times when it's important to take a step back and bring transparency, authenticity, work ethic to the table.
And, I think on a day-to-day basis, if the people I work with see that I bring my full self into work everyday, then I think they respect that and try to do the same.
And at the end of the day, we're all in this journey together and to make Trusted Health extremely valuable for the nurses who use it and the hospitals who use it.
And so it's really all about that. Nothing else really matters at that point.
Staffing Hub: You mentioned you got your start at Hired.com and I feel like that … Or not got your start, but then it's part of your history. And I was wondering if you have any insight on alternative sourcing, since that's such a huge part of where we're looking in the industry. Do you have any sort of out-of-the-box sourcing tips?
Pierce: Sourcing is a true challenge to do it in an effective way. And what I mean by that is, there are plenty of tools and techniques to go out and get a lot of information, candidate data. The critical piece is what do you do with it, right?
So if you are talking about extensions that scrape LinkedIn and et cetera, you can find a bunch of that and you can outsource a team in the Philippines or in India to do it at low cost and get a lot of information and data.
But, the critical piece is: do you have a value proposition that aligns with the candidate on the other end, is your messaging on point, and what's your differentiator?
And I think that's the key. I think a lot of people can figure out step number one. I think step number two is what's really challenging about it.
Staffing Hub: And that seems to be just what is part of the DNA of your company, what do you value, or those sort of core but softer parts of sourcing that seem to be more and more important right now.
Pierce: Yeah. I think that that's part of it. I also think that understanding your customer to a certain perspective.
There's a lot of noise. And what we've seen with the progression from job boards to LinkedIn to … the list goes on — the customer is having a hard time understanding what's the signal versus the noise.
And so if you are consistently creating value for your customer and they know that every time there's a reach out from you, it's done with purpose and it's done in their best interest versus every 50th reach out, it might be something that's relevant to me. If that's the case, you're just going to fall by the wayside.
So, I think it's just really important to make sure that you focus on your customer and that you're providing value to them through your reach outs because all of us can get a list of 10,000 emails and just blast it. Right? That's when it becomes a challenge.
Staffing Hub: It seems like authenticity and transparency would be key there too in the quality of your outreach and in differentiating the signal from the noise.
Pierce: Yeah, absolutely. Couldn't agree more.
Staffing Hub: So what do you think … And maybe we've touched on some of these, but what do you think are some of the biggest challenges facing the healthcare staffing industry right now?
Pierce: Yeah. I think we touched on it a little bit, but at the end of the day, labor's the largest cost for … I mean, you look at a hospital's expenses, roughly 60% of them are labor.
And I think that there are, beyond the supply shortage, I think we know that there's aging population, we've got 10,000 people every single day for the next 15 years who are turning 65. When you hit 65, you need three times the amount of care as the average person.
And as I mentioned before, we just don't have the educators or the education system to increase the supply of nurses as fast as the demand's growing. So that's one, and I think everybody, to some extent, understands that that's a challenge.
I also think that the way our workforce is managed and looked at today is not done in the most efficient way. So, if you look at, not just in healthcare, but if you look at other industries as well, I think it's magnified in healthcare, but the world of the flexible workforce or the contingent workforce and your permanent workforce or FTEs are typically completely separate. They're managed by different parties, there's a lack of communication, and so I'm sure you've heard about it, you guys have probably written about it — total talent management, which is essentially what is the most effective way to deliver quality and cost efficiencies to your patients and what's the workforce that's going to deliver that?
And there's a lot of seasonality within healthcare, so what's that magic ratio of full-time employees and flexing up and flexing down based on your needs and the patients that walk in the door. And so I think that's just really challenging and it's one of the, as I mentioned, a huge piece of the cost equation as well.
Staffing Hub: How do you think leaders in the industry can be responsive to these huge challenges as we move forward in the next few years?
Pierce: From which side?
Staffing Hub: I guess I would say there's probably, well, who knows, but there's probably not a lot that staffing executives can do about the education system, though I may be wrong about that. But in terms of being smart and efficient about meeting the staffing needs that are only going to get more and more intense as the population ages and as the nursing shortage gets more urgent.
Pierce: It's an interesting question. I think one of the things that just pops straight to mind is understanding the market, the label market, and sharing that with customers, sharing that with the education system.
One of the interesting things is we've, as the employer record and as somebody who's receiving a lot of jobs, we have a lot of data. And making that data accessible and turning that into information that leaders across the industry, obviously outside of staffing, more on the customer side of it, the healthcare side, can leverage that and understand "Hey, this is going to be really hard to find an ICU nurse in Texas because of XYZ." Or "Based on the seasonality patterns, we're going to have to pay more for these workers during this time of year."
So factoring that into budgeting or workforce planning and leveraging that data that staffing agencies have, that new technology platforms have, turning it into information and ultimately trading a better solution for the patient at the end of the day.
Staffing Hub: And what do you see on the horizon for Trusted Health?
Pierce: It's exciting times for us. I think there's a huge, huge world of opportunity. We're focused on travel right now and we're just starting to scratch the surface. So we launched in California and Texas and over the next year, we're going to be expanding to nationwide. So that's super exciting and, beyond that, just have to stay tuned and see what we're up to, but exciting stuff on the horizon.
Want more staffing industry interviews? Check out all our podcast episodes.