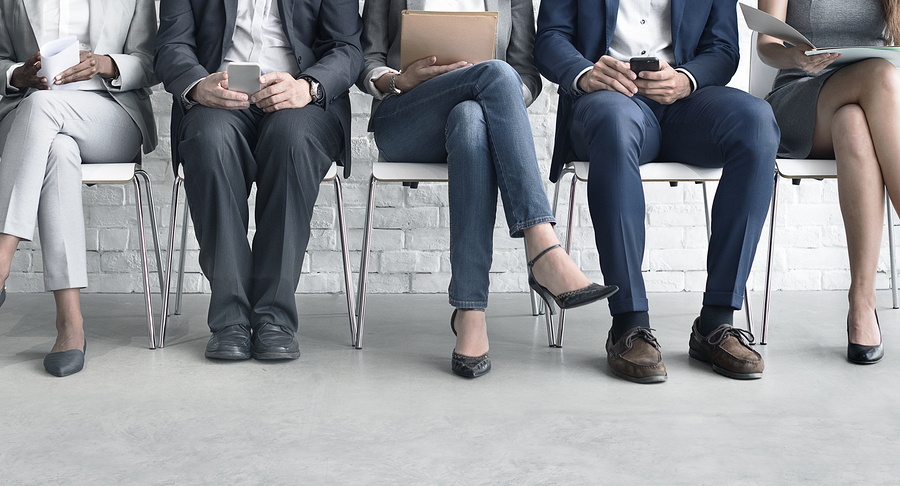 Buzzwords like game changer and innovation reveal core values of our tech-influenced culture. To be the sharpest recruiter, you must employ the latest social media recruiting tools.
1. Video
We've already highlighted how video is the biggest thing in social media this year. It's key to successful marketing campaigns, employer branding efforts, and creating consumer relationships.
It's hard to deny how a great recruitment video can entice candidates to apply.
2. Mobile Recruiting
Active and passive candidates are on their smartphones all the time. They're researching, browsing, and applying on their phones.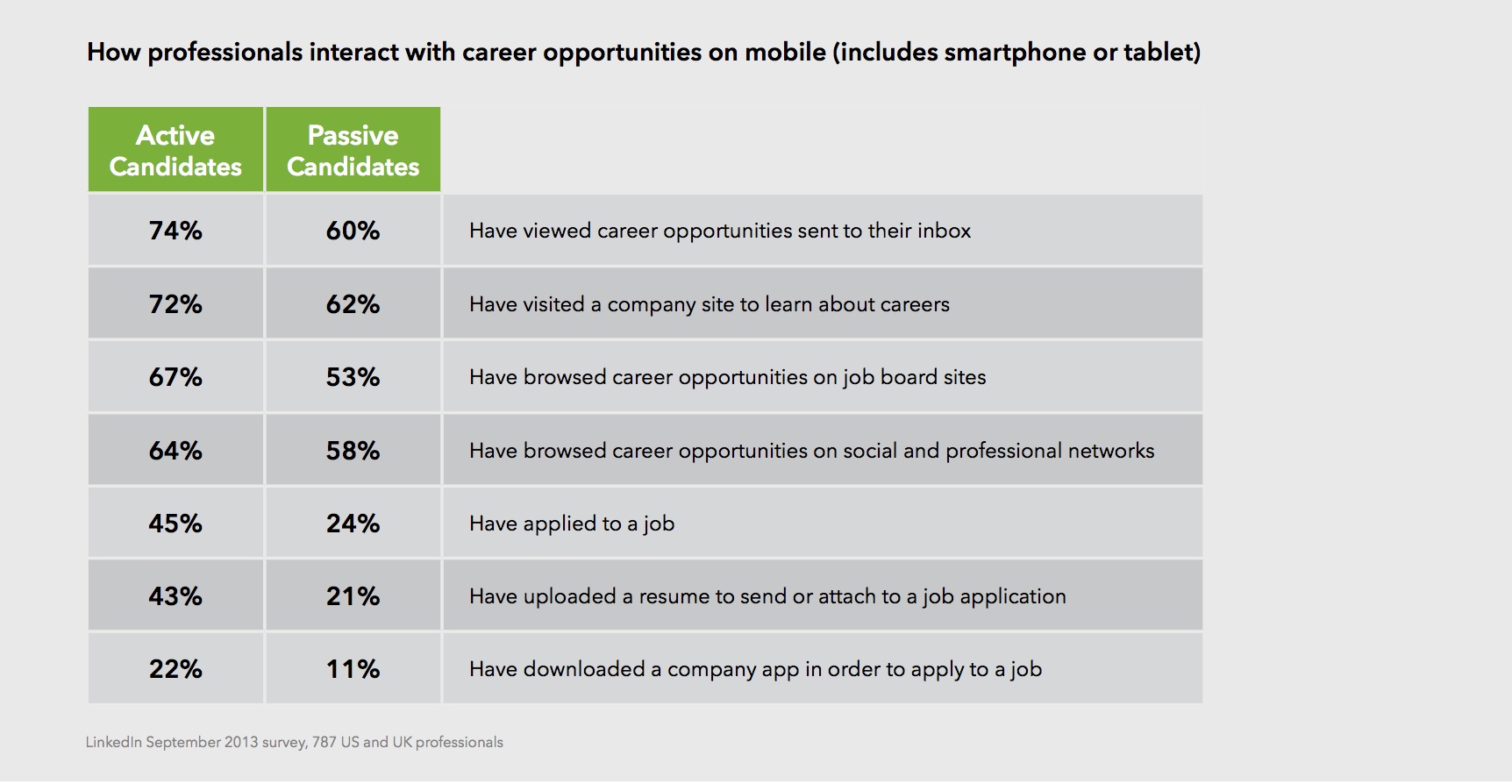 From LinkedIn's Mobile Recruiting Playbook.
Mobile-friendly job sites streamline the process for candidates, who will drop out if applying becomes too complicated. Some ways to optimize for mobile use include designing for the small screen and streamlining the application process by minimizing the information requested.
3. Instagram
With 400 million users, Instagram is the second most popular social networking, topped only by Facebook. Instagram has visually driven storytelling for your visual-consuming candidates and clients.
Use Instagram to engage your clients and candidates. Aim for an Instagram feed that is balanced between useful and interesting, with invitations to participate.
The two examples below show how Hubspot uses Instagram to recruit and develop their employer branding.
For their latest recruitment effort, Hubspot uses not one, but two social media platforms as a way to engage and recruit candidates. They're using their Instagram profile to direct candidates to their Snapchat account to upload short application videos.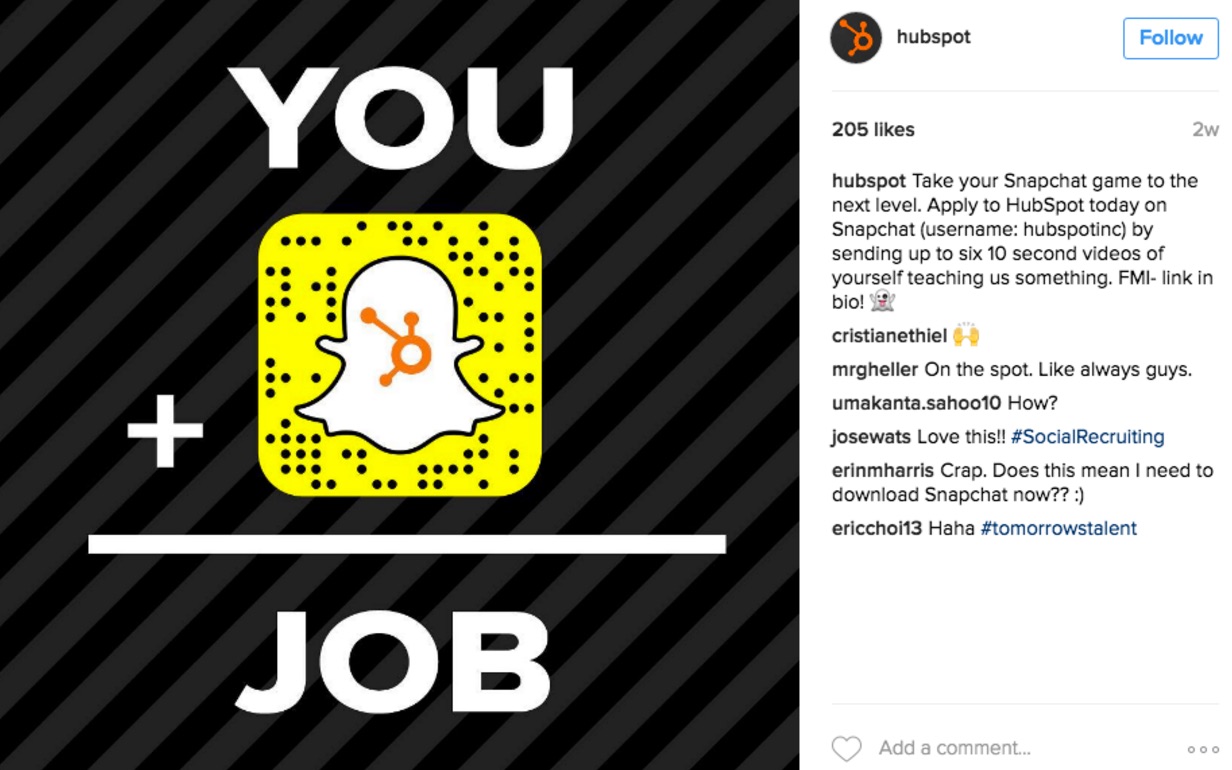 You can create simple job ads by posting visuals that direct candidates to your job site's page. Use tools like Canva to create images in just a few minutes.
Hubspot also uses their Instagram to support their employer brand by profiling their employees. They even have a dedicated hashtag, #HumansofHubSpot, as a way for candidates to further review the culture of their company.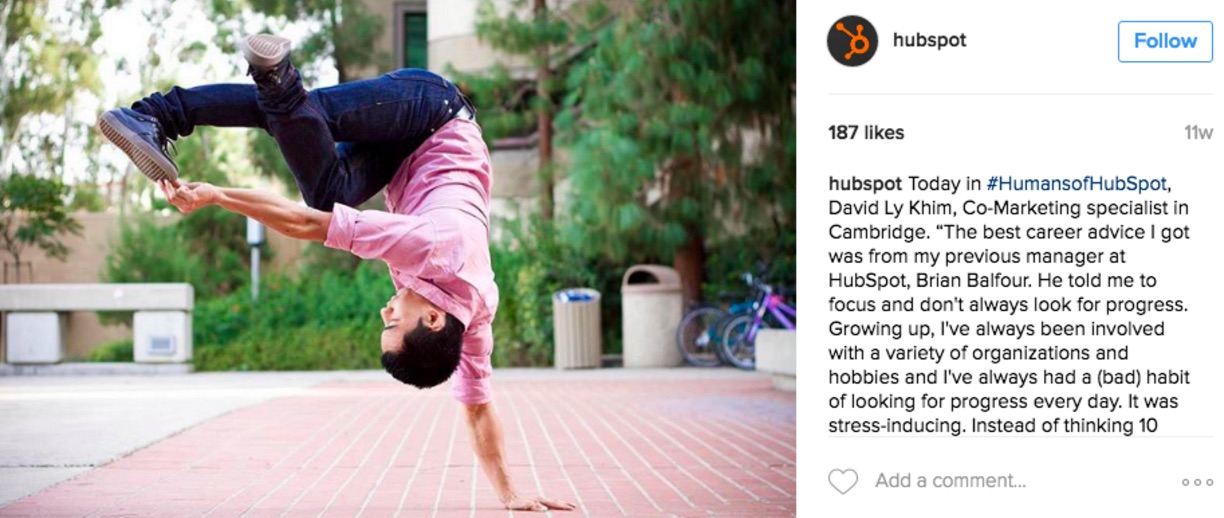 Recruiters can do similar high-value content. Profile successful former candidates. Re-share or create your own images that subtly reflect the values of your candidates. Reinforce the perks of the industries you recruit for.
4. Snapchat
Snapchat is the mobile language of Millennials, spoken in temporary pictures and brief phrases. Companies like JP Morgan Chase and Taco Bell have used Snapchat to attract employees and interns.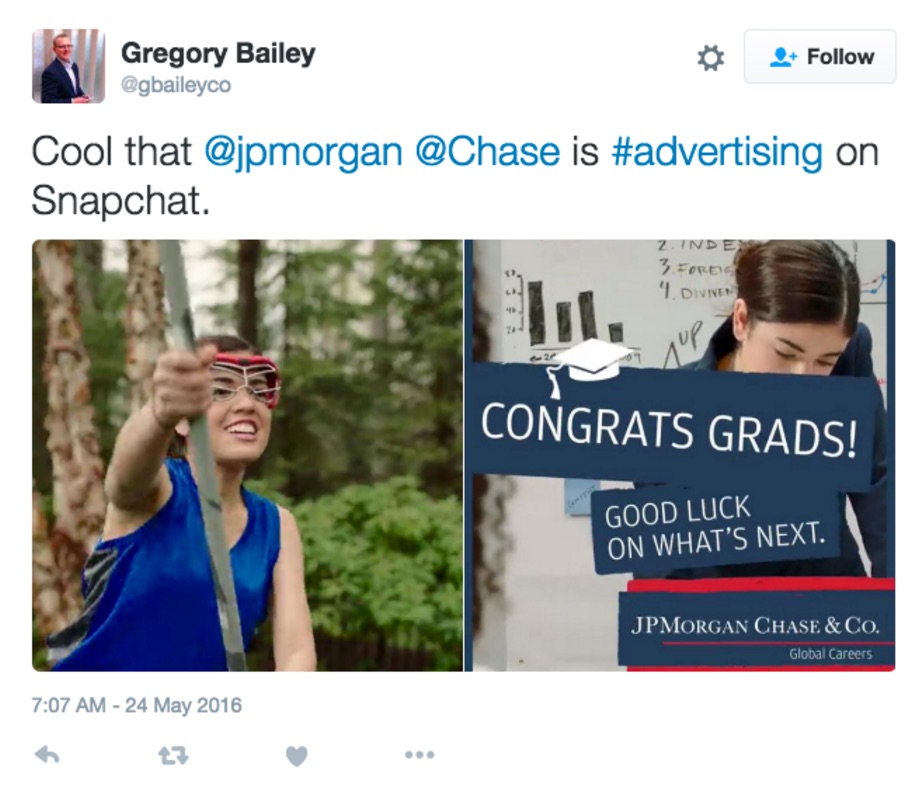 Other than Snapchatting job advertisements, recruiters can use the On-Demand Geofilters to engage clients and candidate at networking events.
5. Hashtags
Using hashtags have evolved in 2016. It's all about finding the right balance.
Keep hashtags down to three or fewer.
Posts with more than three hashtags can come off as overeager and unsophisticated. Use thoughtfully selected hashtags to lead followers and fans to you and to your clients. #You #don't #want #to #annoy #potential #candidates #with #an #abundance #of #hashtags #that #read #like #SPAM.
Add hashtags when you repost
It's not enough to share or repost content anymore. Add your own text and hashtags for that personal touch. Let your online audience know you've found something that benefits them.
6. Influencer marketing
Influencers are leaders, game changers, and definers of your client industries — and they have 11x greater ROI than any other form of digital media. When influencers talk through social media platforms they have an audience — your clients — following them for their innovation and insight.
Influencer marketing is more social recruitment strategy than tactic. You will need to gain insights about your candidates. Influencers can't just be people your candidates read and follow, they must also be thought-leaders in the industries your candidates care about.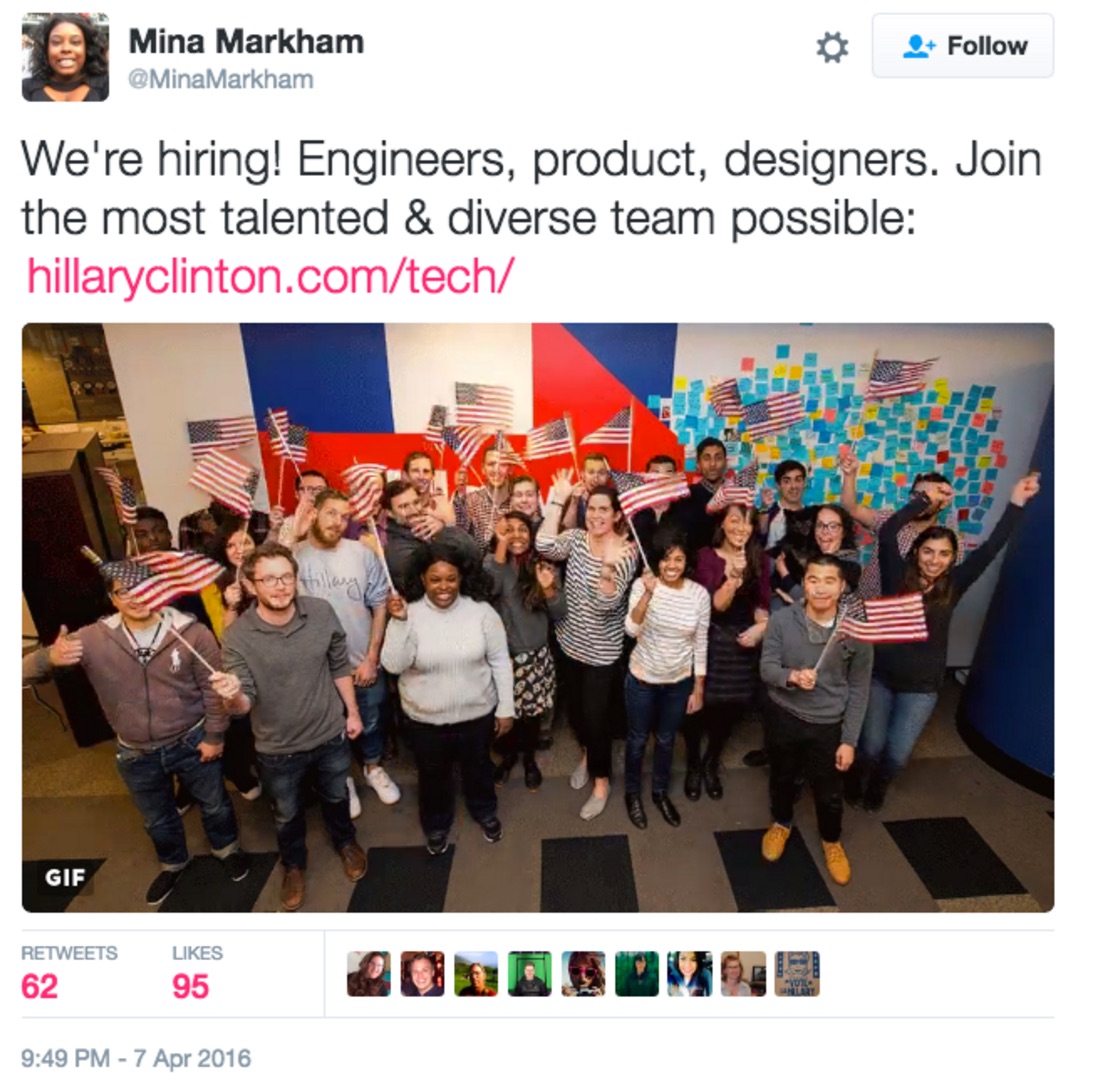 7. Pokemon Go
It's unclear what Pokemon Go's long-term influence will be, but there are currently 21 million users in the United States. Businesses are getting creative with Pokemon Go and the U.S. Navy made headlines when it used it for recruiting purposes.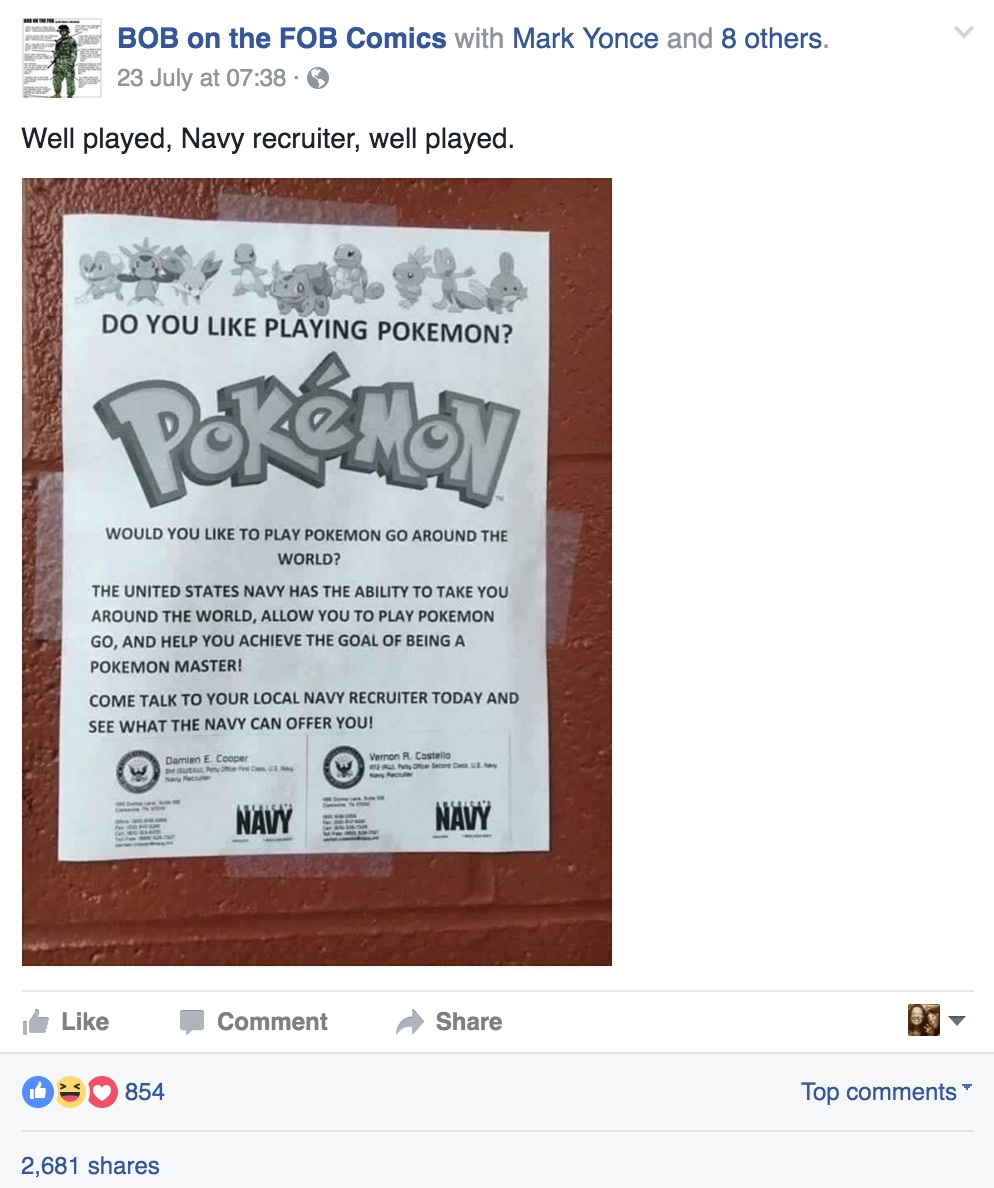 What are your never fail #recruitment weapons? Let us know on Facebook or Twitter!