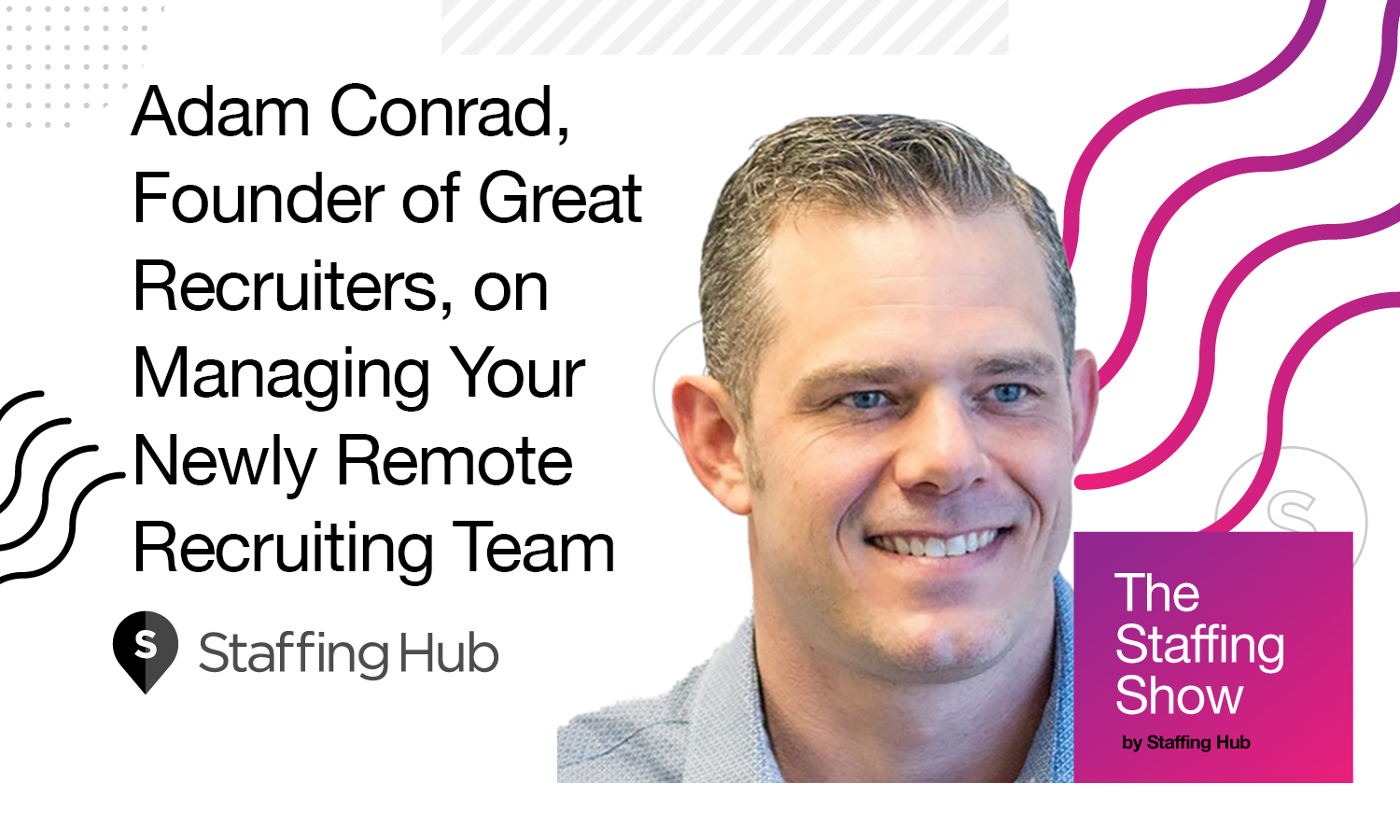 In this episode, David Folwell, the President of StaffingHub, interviews Adam Conrad, the founder of Great Recruiters, on the impact of the pandemic on the staffing industry, how to stay connected with your team when recruiting remotely, and the new face of the digital transformation.
SNEAK PEAK
Adam on the pandemic:
You can throw your 2020 plan out the window. I don't think that this is what we set out for this year to look like, obviously. With everything that's happened, everybody is impacted, so we're just really trying to be out there and be a resource. 
I love this industry. I think a lot of people are impacted by it and just trying to be as supportive as possible. 
I think as a human being, right, with wife, three kids — my wife is a nurse, we have that going on in our life. I've got three kids who are homeschooling, running a business, keeping the team engaged. We're all just trying to navigate this thing that used to be called work-life balance, and man, it feels more like work-life blend right now. We're doing good though. It's just a matter of still trying to just navigate. It seems like new information is coming out everyday.
On reputation management in a remote world:
Wins can be far and few between for many companies right now, but being able to get feedback, you know you're team is doing good and still putting your brand out there and being able to stay connected.
On how crucial smart tech choices are:
I think what [the pandemic] has created is an awesome opportunity for firms to be able to reach outside those normal boundaries and attract talent for their firm across the world essentially. The magnifying glass is being put on the need for technology and how staffing is really going to become a technology-centered industry moving forward.
On the future of staffing:
As an industry, there will be more transparency than there ever has been. I think we're going to become an industry that is just going to become a little bit more standardized, with a little bit more quality control around it, and I think it's just going to benefit everybody so much more when that exists.
Want more staffing industry insights? Download our 2020 State of Staffing Report or tune in to our other podcast episodes.