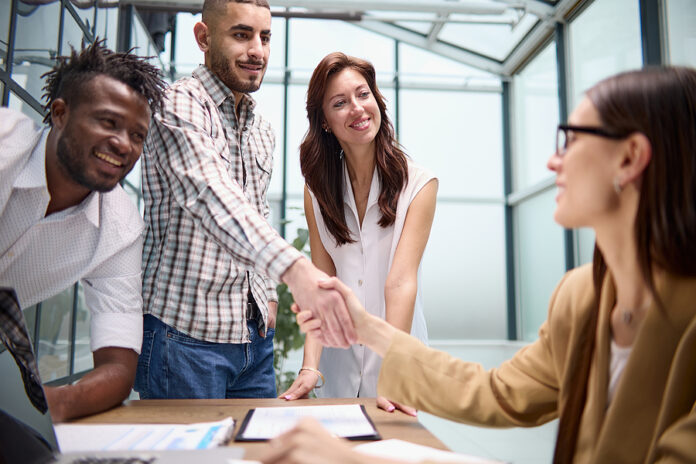 Nonfarm payroll employment gained 236,000 jobs in March, following the addition of 326,000 jobs in February (upward revision), according to the latest data from the Bureau of Labor Statistics (BLS). March's job additions fall below the most recent six-month average of +334,000 jobs.  
"Economic reports continue to point to a complex labor market," said Nicola Hancock, Managing Director – Americas Region at AMS. "There are still almost two jobs for every unemployed worker, yet we're seeing layoffs and reduced hiring in industries such as tech and banking. At the same time, we're experiencing employment gains in industries like hospitality and travel. Despite the economic outlook appearing a bit uncertain, the job market is still strong."
Continued growth in leisure and hospitality, losses in temp help and retail trade
Leisure and hospitality gained the most jobs over the month, adding 72,000 jobs, primarily in food services and drinking places (+50,000). However, March's job growth for the industry was below the average monthly gain over the past six months (+95,000), and, overall, the industry is still below its pre-pandemic level by 368,000 jobs (2.2%).
Other notable job gains in March included:

Government (+47,000)

Professional and business services (+39,000)

Health care (+34,000)

Social assistance (+17,000)

Transportation and warehousing (+10,000)
At +26,000, professional, scientific, and technical services had the bulk of the job gains in professional business services in March. "Tech job vacancies remain high despite layoffs," said Jason Pyle, President and Managing Director of Harvey Nash USA, "and the industry continues to add jobs. As jobs are added, there's an opportunity for small and mid-size companies to tap into talent from large organizations that they've been scrambling to secure for years."
On the opposite end, retail trade decreased by 15,000 jobs over the month. And temporary help services lost February's gains, dropping 11,000 jobs in March.
Unemployment edges down to 3.5%
The unemployment rate inched down from 3.6% in February to 3.5% in March, accounting for 5.8 million unemployed people. Since early last year, these numbers have shown little net movement.
The major worker groups experienced a decline in unemployment rates or little to no change over the month: 
Adult men: 3.4% (3.3% in February)

Adult women: 3.1% (3.2% in February)

Teenagers: 9.8% (11.1% in February)

Black: 5.0% (5.7% in February)

Hispanic: 4.6% (5.3% in February)

Asian: 2.8% (3.4% in February)

White: 3.2% (3.2% in February)
Unemployment numbers hold steady 
The number of those experiencing permanent job loss went up 172,000 to 1.6 million in March, and there was little change in long-term unemployment (jobless for 27 weeks or more), which represented 1.1 million people or 18.9% of the total unemployed. The number of reentrants, or people who worked before but weren't in the labor force before starting their job search, fell by 182,000 to 1.7 million over the month. March's labor force participation rate inched up to 62.6%.
The number of people who worked part time for economic reasons held steady at 4.1 million in March. Returning to its pre-pandemic level, the number of those not currently in the labor force who wanted a job came in at 4.9 million for the month — among this group were 1.3 million people who were marginally attached to the labor force and 351,000 discouraged workers. 
Average hourly earnings for private nonfarm employees continue to rise, going up another $0.09 in March to reach $33.18. The 12-month average increase is now 4.2%. The average workweek inched down to 34.4 hours last month. 
"As the economy tightens," Hancock added, "it's more important than ever that organizations put the right people in the right roles. Now is a good time for leadership to regroup on current talent strategy and look at their tech solutions. Investing in an employer brand remains critical to drive strong candidate interest even in times of uncertainty and low unemployment. Having a clear talent strategy has never been more important."